Hantverkaregatan 2
76130 Norrtälje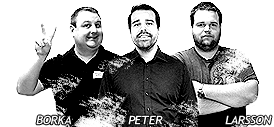 Orders made before 16.00 CET are shipped the same day.
Store & customer service open 7 days a week.
Always the same price online and in the shop.
Same stock online and in store.
Retro-Bit Prism HD Adapter Gamecube
[Retro]
Information

29 Kr

69 Kr


149 Kr
Produkten innehåller:
Retro-Bit Prism HD Adapter Gamecube innehåller:
Gamecube HDMI Adapter
Fjärrkontroll
Product description
Prism HD Adapter
Harness the full potential of your GameCubeⓇ by tapping into the Digital AV Out port on most consoles*. Previously only used with rarely available component cables. This adapter provides the best quality visuals by using the open source GC Video 3.0 firmware which includes features such as line doubling, scanline filters, aspect ratios, and a user-friendly on-screen display.

● Compatible with GameCubeⓇ*
● Customizable on screen display
● USB-CⓇ Data port for easy installation of Firmware updates and additional languages
● Scan Filters
● Includes IR Remote with 3ft range
● Plug-and-play setup
Other information
System requirements
*Only compatible with GameCubeⓇ model DOL-001, the most common version. Almost all Gamecube consoles sold are of this version.
**Important! Settings Remote to be used within 3ft of Prism adapter upon setup
Share
Questions and answers
You may also like
Others also bought