Hantverkaregatan 2
76130 Norrtälje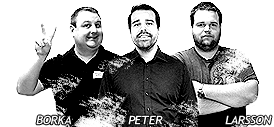 Orders made before 15.00 CET are shipped the same day.
Store & customer service open 7 days a week.
Always the same price online and in the shop.
Same stock online and in store.
Magic The Gathering
Magic The Gathering, eller i folkmun Magic, MTG eller helt enkelt Magickort. Magic kom till 1993 av Richard Garfield på företaget Wizard of the Coast, numera uppköpta av leksaksjätten Hasbro.
Det finns över 20 000 olika kort i MTG, och är indelade i fyra raritetskategorier: common, uncommon, rare & Mythic Rare (vanlig, ovanlig, sällsynt & väldigt ovanliga) Magic har ett spelsätt likt bridge och poker, men med betydligt fler kort och mer komplexa regler än andra kortspel.