Hantverkaregatan 2
76130 Norrtälje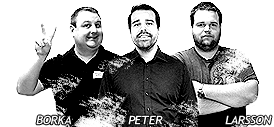 Orders made before 15.00 CET are shipped the same day.
Store & customer service open 7 days a week.
Always the same price online and in the shop.
Same stock online and in store.
Retro-Bit Prism Component Cable for Nintendo Gamecube
[Retro]
Information

49 Kr

59 Kr


149 Kr
Product description
Get the most out of your GameCube with the Retro Prism Component Cable! Get clean graphics and clear sounds without having to connect any additional cables - one connection will provide audio and video.

Compatible with Nintendo GameCube® consoles* (model DOL-001) with Digital AV Out
Functions with displays that have component inputs (Y, Pb, Pr, L-Audio, and R-Audio)
Supports 480i, 480p, 576i, 576p resolutions on compatible NTSC and PAL consoles
6ft / 1.8m fully insulated cable

*Only compatible with GameCube® model DOL-001
Other information
System requirements
*Only compatible with GameCubeⓇ model DOL-001, the most common version. Almost all Gamecube consoles sold are of this version.
Share
Questions and answers
You may also like
Others also bought