Hantverkaregatan 2
76130 Norrtälje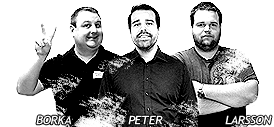 Orders made before 15.00 CET are shipped the same day.
Store & customer service open 7 days a week.
Always the same price online and in the shop.
Same stock online and in store.
Battletoads & Double Dragon
[SNES]
Same stop in the store and on the web
(Inventory is updated continuously)
Shipping from 59 kr (Pick up in store 0 kr)
Deliveries faster than Sonic
90 days exchange right
Information

59 Kr

69 Kr


149 Kr
Battletoads & Double Dragon innehåller:
Ultimate Team Green Battletoads and Double Dragon 16-Bit Cartridge (PAL)
Numbered deluxe hardcover cartridge packaging
Full colored instruction manual
Product description
When the Dark Queen and Shadow Boss come together to try to take over Earth, they will also end up bringing together two of the most iconic teams in gaming. With the Battletoads Rash, Pimple, and Zitz and the Double Dragons Billy and Jimmy Lee, you can bet that the dastardly duo will be in for some pain!

With the Earth's defenses out of the picture, it's up to this team up of brawlers to save the planet with their combined might. On the other end, you'll find classic enemies from both series like Big Blag, Abobo, Guido, Roper, Robo Manus, and many more scumbags.

Up to two players can choose from five fighters and venture through eight treacherous stages using every possible technique to smash, bash, and thrash through enemies. From the massive space cruiser the Colossus to the scummy streets down below full of rats and thugs, each level will give the 'Toads and Dragons plenty of targets to choose from. It's time to get mean and green.
Share
Questions and answers
Others also bought