Hantverkaregatan 2
76130 Norrtälje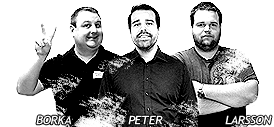 Ordrar gjorda innan 16.00 skickas samma dag.
Butik & kundtjänst har öppet 7 dagar i veckan.
Alltid samma pris i butiken och på nätet.
Samma lager i butiken och på nätet.
Returnal (inkl. Förbokningserbjudande)
[PS5]
Information
Fraktkostnad Posten:

29 Kr
Fraktkostnad Schenker:

59 Kr
Fraktkostnad Norden:


149 Kr
Release:
2021-04-30 (11 dagar kvar)
Vårt artikelnummer:
39397
Viktig produktinformation
Förbokningserbjudande:
Förboka Returnal och få 2st dräker i spelet, ASTRA Model 14 Tactical Suit och ASTRA Model 9 Prototype Suit
Produktbeskrivning
The next generation of survival horror rises in the form of Resident Evil Village, the eighth major entry in the Resident Evil series.

Set a few years after the horrifying events in the critically acclaimed Resident Evil 7 biohazard, the all-new storyline begins with Ethan Winters and his wife Mia living peacefully in a new location, free from their past nightmares.

Just as they are building their new life together, tragedy befalls them once again. When BSAA captain Chris Redfield attacks their home, Ethan must once again head into hell to get his kidnapped daughter back.

Features:

A New Chapter in the Resident Evil Storyline – This eighth major instalment in the flagship Resident Evil series continues the story from the critically acclaimed Resident Evil 7 biohazard. With the return of popular features and introduction of new elements, survival horror has never been so intense.

Latest Console Technology – RE Engine paired with new technologies available via PlayStation 5 and Xbox Series X|S delivers hyper-detailed graphics, advanced immersive audio and little to no load times, bringing the shadowy village and its evocative residents to life in first person perspective.

Popular Resident Evil Features – Fans might recognize new features in Resident Evil Village that are nods to previous Resident Evil games including a merchant dubbed "The Duke" who allows players to purchase and sell items, buy recipes for crafting consumables, and customize weapons.

Familiar Faces and New Foes – Resident Evil series Chris Redfield returns under a shroud of seemingly sinister motives. Ethan will also encounter a host of new adversaries inhabiting the enigmatic village, all with their own distinctive ways of attacking.

Evolution of Combat – In addition to engaging and attacking enemies, Ethan can also now guard against incoming attacks, or kick enemies away to buy time for his next move, requiring players to further strategize the best approach for surviving the many challenges ahead.

25th Anniversary Celebration Bonus – As a thank you to fans, Resident Evil Village will include access to a free multiplayer experience titled Resident Evil Re:Verse, coming to PlayStation 4, Xbox One and PC. An all-star cast of fan-favourite Resident Evil characters face off in four to six-player deathmatch battles in iconic series locations.
Dela
Frågor och svar
Andra köpte också