Hantverkaregatan 2
76130 Norrtälje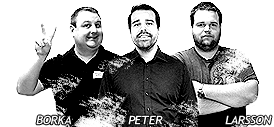 Orders made before 15.00 CET are shipped the same day.
Store & customer service open 7 days a week.
Always the same price online and in the shop.
Same stock online and in store.
Pocky & Rocky Reshrined - Collectors Edition Plushie Bundle
[Switch]
Same stop in the store and on the web
(Inventory is updated continuously)
Shipping from 59 kr (Pick up in store 0 kr)
Deliveries faster than Sonic
90 days exchange right
Information

59 Kr

69 Kr


149 Kr
Pocky & Rocky Reshrined - Collectors Edition Plushie Bundle innehåller:
Game for Nintendo Switch
Special Rocky-style Collector's Edition Box with magnetic latch
Colourful Game Manual
Original Soundtrack CD
Acrylic Pocky & Rocky Diorama
Omamori with pixel-style Character Art (Japanese-style amulet)
Postcard Set of 4
Character Sticker Sheet
Logo Enamel Pin
Reversible Artwork Poster (DIN A2 / 42 x 59,4 cm)
Bookmark
Leaf Eraser
Collector's Coin
~27cm / 10.6in Rocky plushie
Product description
Individually numbered. Limited to 999 copies worldwide.

Pocky & Rocky back on a brand-new adventure!
The shooting game series, with roots going back to the original Taito-released '80s arcade game, has delighted many generations of gamers. Now, the brand-new Pocky & Rocky Reshrined finally brings the iconic duo back!

This third and latest addition to the legendary series takes the shape of a multi-directional scrolling shooter with fantastic retro-style graphics, awesome sound design and lots of additional features and content!

Features:
Classic 16-bit style graphic & sound for a nostalgic retro feeling
Five adventurous characters to choose from! Besides the beloved duo Pocky and Rocky, you can also play as: Ame no Uzume, Ikazuchi und Gozen Hotaru
Master the stages in the single-player Story Mode or battle your enemies together with a friend in 2-player co-op Free Mode
Collect coins to unlock the Easy Mode to reduce the difficulty and play more smoothly to the end
Challenge yourself and master various unique stages with lots of different enemies
Compare your scores with others and climb to the top of the Online Leaderboard
Join Pocky and Rocky on their adventure to defeat the evil Black Mantle!
Share
Questions and answers
Others also bought