Hantverkaregatan 2
76130 Norrtälje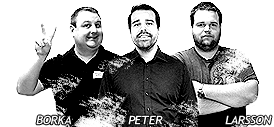 Orders made before 15.00 CET are shipped the same day.
Store & customer service open 7 days a week.
Always the same price online and in the shop.
Same stock online and in store.
Strictly Limited Games
Strictly Limited Games är en Tyskland baserad utgivare som likt sin amerikanska konkurrent Limited Run Games specialiserar sig på fysiska kopior av annars exklusivt digitala spel.

Samtliga titlar de släpper gör endast ett visst antal och endast en gång, så tar ett spel slut kommer det inte in igen..
Fler produkter från "Strictly Limited Games"