Hantverkaregatan 2
76130 Norrtälje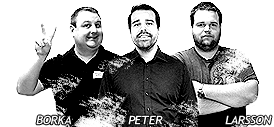 Orders made before 15.00 CET are shipped the same day.
Store & customer service open 7 days a week.
Always the same price online and in the shop.
Same stock online and in store.
FAQ - Vanligaste frågor
Om jag beställer nu när får jag mina varor?
Vi kan skryta om att alla mindre leveranser hittils har blivit skickade samma vardag ordern gjorts, om beställningen kommer in till oss innan 16:00. Sen är allt upp till Posten, när exakt du får din order, men dom allra flesta har den redan hos sig dagen därpå.

Det står 1 i lager, stämmer det lagersaldot?
Med 99,9% säkerhet så stämmer det. Vårt kassasystem och webshop är mycket smartare än oss anställda och gör aldrig fel. Även fast vi säljer från samma lager både på nätet och i vår butik så tilllåter aldrig våra system att vi "råkar" sälja samma produkt som precis blivit såld. Om lagersaldot mot förmodan inte stämmer så är det den mänskliga faktorn som varit framme.

Hur är skicket på skivan på ett begagnat spel?
Alla våra begagnade spelskivor har blivit slipade om det behövdes, vilket resulterar i att dom ser ut precis som den dagen dom var nya.