Butiken
hantverkaregatan 2
76130 Norrtälje
Hitta hit
Öppettider
Mån-Fre: 10.00-18.00
Lördag: 10.00-16.00
Söndag: 11.00-16.00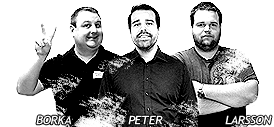 Hollow Knight (inkl. Hollow Knight Pin)
[PS4]
23 kr/mån

Butik i norrtälje och webbshop är samma lager
(Lagersaldo senast kontrollerat för 5 minuter sedan.)
access_time
Beställ inom
0 timmar 00 minuter
för att få din order skickad idag med
checkFrakt från 29 kr (Hämta i butik 0 kr) checkLeveranstid 1-3 vardagar check90 dagars bytesrätt
| | |
| --- | --- |
| Spelare: | 1 |
| Garanti: | 12 månader |
| Språk (text): | |
| Rek. ålder: | 7 år |
| Fraktkostnad Posten: | 29 Kr |
| Fraktkostnad Schenker: | 59 Kr |
| Fraktkostnad Norden: | 149 Kr |
| Vårt artikelnummer: | 32911 |
infoProdukten innehåller:
Hollow Knight (inkl. Hollow Knight Pin) innehåller:
Spelet
Reversible cover
Game manual
Map of Hallownest
Hollow Knight Pin
Hollow Knight is an epic 2D action-adventure. You'll explore twisting caverns, battle tainted creatures and escape intricate traps, all to solve an ancient long-hidden mystery.The world of Hollow Knight is brought to life in vivid, moody detail, its caverns alive with bizarre and terrifying creatures, each animated by hand in a traditional 2D style. Every new area you'll discover is beautifully unique and strange, teeming with new creatures and characters to discover. The world of Hollow Knight is one worth exploring just to take in the sights and discover new wonders hidden off of the beaten path.

The physical edition of Hollow Knight includes all DLCs/expansions to the original game included in the disc/cartridge.

Godmaster
Take your place amongst the Gods. New Characters and Quest. New Boss Fights.
This expansion includes new characters, boss fights, music, a new game mode as well as two new endings.

Lifeblood
A Kingdom Upgraded! New Boss. Upgraded Bosses. Tweaks and Refinements across the whole game.

The Grimm Troupe
Light the Nightmare Lantern. Summon the Troupe. New Major Quest. New Boss Fights. New Charms. New Enemies. New Friends.

Hidden Dreams
Mighty new foes emerge! New Boss fights. New Upgrades. New Music.
Includes two new optional boss encounters, two new songs in the soundtrack, a new fast-travel system, and a new Stag Station to discover. The content can be accessed at any point in the game, though it is advised to wait until the late game due to the difficulty.

Features
Classic side-scrolling action, with all the modern trimmings.
Tightly tuned 2D controls. Dodge, dash and slash your way through even the most deadly adversaries.
Explore a vast interconnected world of forgotten highways, overgrown wilds and ruined cities.
Forge your own path! The world of Hallownest is expansive and open. Choose which paths you take, which enemies you face and find your own way forward.
Evolve with powerful new skills and abilities! Gain spells, strength and speed. Leap to new heights on ethereal wings. Dash forward in a blazing flash. Blast foes with fiery Soul!
Equip Charms! Ancient relics that offer bizarre new powers and abilities. Choose your favourites and make your journey unique!
An enormous cast of cute and creepy characters all brought to life with traditional 2D frame-by-frame animation.
Over 140 enemies! 30 epic bosses! Face ferocious beasts and vanquish ancient knights on your quest through the kingdom. Track down every last twisted foe and add them to your Hunter's Journal!
Leap into minds with the Dream Nail. Uncover a whole other side to the characters you meet and the enemies you face.
Beautiful painted landscapes, with extravagant parallax, give a unique sense of depth to a side-on world.
Chart your journey with extensive mapping tools. Buy compasses, quills, maps and pins to enhance your understanding of Hollow Knight's many twisting landscapes.
A haunting, intimate score accompanies the player on their journey, composed by Christopher Larkin. The score echoes the majesty and sadness of a civilisation brought to ruin.
Complete Hollow Knight to unlock Steel Soul Mode, the ultimate challenge!
memorySystemkrav
shareDela
Butiken
hantverkaregatan 2
76130 Norrtälje
Hitta hit
Öppettider
Mån-Fre: 10.00-18.00
Lördag: 10.00-16.00
Söndag: 11.00-16.00
Varför handla hos oss
keyboard_arrow_right
Ordrar gjorda innan kl 16.00 skickas samma dag.
keyboard_arrow_right
Butik & kundtjänst har öppet 7 dagar i veckan.
keyboard_arrow_right
Alltid samma pris i butiken och på nätet.
keyboard_arrow_right
Sveriges personligaste tv-spelsbutik.
keyboard_arrow_right
Samma lager i butiken och på nätet.
keyboard_arrow_right
Kundomdömen i världsklass på prisjakt & Tradera
Utmärkelser