Hantverkaregatan 2
76130 Norrtälje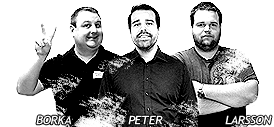 Orders made before 15.00 CET are shipped the same day.
Store & customer service open 7 days a week.
Always the same price online and in the shop.
Same stock online and in store.
Drakar och Demoner
[Rollspel]
Information

59 Kr

69 Kr


149 Kr
Drakar och Demoner innehåller:
Drakar och Demoner regelbok
5 st förskapade karaktärer & karaktärsblad
5 st blanka karaktärsblad
Initiativkort
Transparent Tärningsset: Fyra D6, två D20 & en av vardera av D4, D8, D10 och D12
Pappstativ föreställandes karaktärer och monster
Stridskarta
Skattkort
Regeluppsättning för ett enspelarläge
Äventyrsnav: Byn Utkante
Äventyr: Trolletinn
Äventyr: De Döra Ögonens Grotta
Äventyr: Suckarnas Torn
Äventyr: Ödsmörks Djup
Äventyr: Templet Purpurbrand
Äventyr: Bothilds Bryte
Äventyr: Dimön
Äventyr: Gårdagens By
Äventyr: Rovriddarna på Apelsborg
Product description
Drakar och Demoner tillbaka, 40 år efter den första utgåvan. Fria Ligans nya utgåva av spelet är både en hyllning till arvet från Äventyrsspel och varsam vidareutveckling av spelet, anpassad för rollspel på 2020-talet.
Other information

Share
Questions and answers
Others also bought