Hantverkaregatan 2
76130 Norrtälje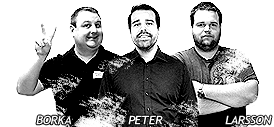 Orders made before 15.00 CET are shipped the same day.
Store & customer service open 7 days a week.
Always the same price online and in the shop.
Same stock online and in store.
Kirbys Return to Dream Land Deluxe (inkl. Förhandsbokningserbjudande)
[Switch]
Information

49 Kr

59 Kr


149 Kr
Förbokningserbjudande
Förboka Kirby's Return to Dream Land Deluxe och få en söt Notepad med på köpet.
Product description
Vår rosa hjältes Wii-spel kommer tillbaka ... den här gången extra lyxigt.
En dag kraschar ett mystiskt rymdskepp på Planet Popstar. För att hjälpa den mystiske Magolor ger sig Kirby och hans vänner iväg på ett spännande äventyr. När Kirby andas in vissa fiender får Kirby tillgång till ett brett utbud av förmågor. Här gör bland annat den nya Mecha Copy Ability sin debut.

Spelet stöder lokal multiplayer för upp till fyra spelare på samma konsol. Dessutom kan alla spela som Kirby samtidigt som de använder sina favoritkopieringsmöjligheter. Det finns också en samling minispel att spela, som välbekanta Samurai Kirby och nya Magolors Tome Trackers.
Other information

Share
Questions and answers
Others also bought