Butiken
hantverkaregatan 2
76130 Norrtälje
Hitta hit
Öppettider
Mån-Fre: 10.00-18.00
Lördag: 10.00-16.00
Söndag: 11.00-16.00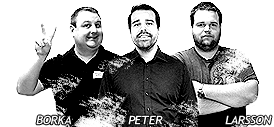 Magic the Gathering Commander 2018 Adaptive Enchantment
[MTG]
shareDela
Magic the Gathering Commander 2018 Adaptive Enchantment innehåller:
• A 100-card Commander deck
• One oversized Foil Commander card for each deck
• 10 Token Cards
• Deck storage box
• Strategy insert and rules reference card

Adaptive Enchantment
Estrid wears many faces, only occasionally wearing her own. Her arsenal of enchanted masks lets her shift seamlessly between the powers and fighting styles of countless creatures to adapt to enemy tactics.

Choose your commander and carve your path to victory in this unique multiplayer Magic format. Call on powerful planeswalkers and deploy their signature strategies to make sure you're the last player standing.

Commander is a unique and exciting way to play multiplayer Magic, featuring lots of legendary creatures and big, game-changing spells. Your deck is built around a single legendary creature (the "commander," which can be cast multiple times), and can use only cards within that creature's color idenity. A Commander deck must be exactly 100 cards, and can't contain more than one copy of any card other than basic lands, making it a fun challenge for a creative deck builder. Play in a multiplayer free-for-all and maximize your commander's strengths to make sure you're the last one standing!

Commander (2018 Edition) brings back a very special category of commanders: planeswalkers! Yep, instead of a creature, each deck is led by a powerful planeswalker and built to take full advantage of their unique abilities. Most planeswalkers can't be used as commanders, but these four have been designed specifically to fill that role, so you can battle with a true legend of the Multiverse by your side.
Extraliv
Laddar..
info Instagram
Butiken
hantverkaregatan 2
76130 Norrtälje
Hitta hit
Öppettider
Mån-Fre: 10.00-18.00
Lördag: 10.00-16.00
Söndag: 11.00-16.00
Varför handla hos oss
keyboard_arrow_right
Ordrar gjorda innan kl 16.00 skickas samma dag.
keyboard_arrow_right
Butik & kundtjänst har öppet 7 dagar i veckan.
keyboard_arrow_right
Alltid samma pris i butiken och på nätet.
keyboard_arrow_right
Sveriges personligaste tv-spelsbutik.
keyboard_arrow_right
Samma lager i butiken och på nätet.
keyboard_arrow_right
Kundomdömen i världsklass på prisjakt & Tradera
Utmärkelser