Hantverkaregatan 2
76130 Norrtälje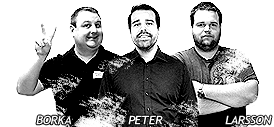 Orders made before 15.00 CET are shipped the same day.
Store & customer service open 7 days a week.
Always the same price online and in the shop.
Same stock online and in store.
Exit the Game Det Hemliga Laboratoriet
[Sällskapsspel]
Same stop in the store and on the web
(Inventory is updated continuously)
Shipping from 49 kr (Pick up in store 0 kr)
Deliveries faster than Sonic
90 days exchange right
Information

49 Kr

59 Kr


149 Kr
Product description
As volunteers for a medical research study, you report to a lab as instructed. But no one is there except for you! Vapor rises from a test tube and you start feeling dizzy. When you wake up again, the door is locked, and you discover a notebook and a strange disk ...

Can you solve the riddles left for you by a previous research volunteer and escape the lab?

Exit the Game Det Hemliga Laboratoriet innehåller:
Decoder disk
85 Cards
2 Strange items
Book
Spelregler på Svenska

Ålder: från 12 år
Antal spelare: 1-4
Speltid: ca. 1-2 Timmar.
Other information

Share
Questions and answers
You may also like
Others also bought