Butiken
hantverkaregatan 2
76130 Norrtälje
Hitta hit
Öppettider
Mån-Tor: 10.00-18.00
Söndag: 11.00-16.00
Midsommarafton - 21/6 Stängt
Midsommardagen - 22/6 Stängt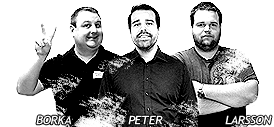 Warhammer 40K Ironstrider
[WH40K]
shareDela
| | |
| --- | --- |
| Tillverkare: | Games Workshop |
| Fraktkostnad Posten: | 49 Kr |
| Fraktkostnad Schenker: | 59 Kr |
| Fraktkostnad Norden: | 149 Kr |
With a distinctive two-legged walking tank-shape, the artillery platform known as the Ironstrider Balistarius is a fearsome sight indeed. Gyroscopically balanced, with downlinks providing them with the sum knowledge of their enemies, the deadly accuracy of the Ironstrider Ballistarius would be the stuff of legend, were any survivors ever left to recall it.

As a mobile artillery weapons platform, the Ironstrider Ballistarius can be fitted with one of two armament options: a twin-linked cognis autocannon or a twin-linked cognis lascannon. The split-toed legs can be posed in two different configurations, with suspensors that can be modelled at differing angles, and the entire surface of the machine crawls with sensors, data collection modules and antennae. The gunner has four head options; three hooded and one rebreather.

This multi-part, 80-component plastic kit contains all the parts necessary to build either one Ironstrider Ballistarius or a Sydonian Dragoon, and features a small transfer sheet and a 105x70mm oval base.

memorySystemkrav
OBS: Kräver ihopsättning med lim och delarna kommer omålade.
Extraliv
Laddar..
info Instagram
Butiken
hantverkaregatan 2
76130 Norrtälje
Hitta hit
Öppettider
Mån-Tor: 10.00-18.00
Söndag: 11.00-16.00
Midsommarafton - 21/6 Stängt
Midsommardagen - 22/6 Stängt
Varför handla hos oss
keyboard_arrow_right
Ordrar gjorda innan kl 16.00 skickas samma dag.
keyboard_arrow_right
Butik & kundtjänst har öppet 7 dagar i veckan.
keyboard_arrow_right
Alltid samma pris i butiken och på nätet.
keyboard_arrow_right
Sveriges personligaste tv-spelsbutik.
keyboard_arrow_right
Samma lager i butiken och på nätet.
keyboard_arrow_right
Kundomdömen i världsklass på prisjakt & Tradera
Utmärkelser