Hantverkaregatan 2
76130 Norrtälje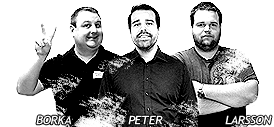 Ordrar gjorda innan 16.00 skickas samma dag.
Butik & kundtjänst har öppet 7 dagar i veckan.
Alltid samma pris i butiken och på nätet.
Samma lager i butiken och på nätet.
Watch Dogs Legion Ultimate Edition (inkl. Förbokningserbjudande)
[XOne]
58 kr/mån

Butik i norrtälje och webbshop är samma lager
(Lagersaldo senast kontrollerat för 7 minuter sedan.)
checkFrakt från 29 kr (Hämta i butik 0 kr) checkLeveranser snabbare än Sonic check90 dagars bytesrätt
| | |
| --- | --- |
| Garanti: | 12 månader |
| Tillverkare: | Ubisoft |
| Fraktkostnad Posten: | 29 Kr |
| Fraktkostnad Schenker: | 59 Kr |
| Fraktkostnad Norden: | 149 Kr |
| Vårt artikelnummer: | 34014 |
infoViktig produktinformation
För att göra det möjligt för er att ställa er tidigt i vår bokningskö för denna produkt, har vi lagt upp produkten för bokning även fast ett korrekt pris ännu inte finns tillgängligt. Pris är endast spekulation från vår sida, och överensstämmer inte nödvändigtvis med vad utgivaren planerar.

Förbokningserbjudande:
PRE-ORDER BONUS
Pre-order to get access to the Golden King Pack and set your heroes apart in the streets of London with:
The Uneasy Lies mask
The Serpent Sisters Pistol skin
The Lux Car skin
Watch_Dogs Legion Ultimate Edition innehåller:

PLAY EARLY
Play three days early*: pre-order the Watch Dogs Legion Ultimate Edition and get your copy up to three days early (from 3rd March 2020).

PHYSICAL CONTENT
Copy of the Watch Dogs Legion game.

DIGITAL CONTENT
SEASON PASS
Enjoy new ways to play the game with the Season Pass:
Get Seven-days early access to four upcoming iconic heroes with game-changing abilities and their origin stories.
The immersive story mission, "Not In Our Name," available at launch. Face a group of impostors using the DedSec identity in London and unlock one familiar mask reward for your heroes.
The DedSec Car skin to customise your vehicles, available at launch.

ULTIMATE PACK
Hack, infiltrate and fight your way to a liberated London with the Ultimate Pack including:
The Urban Jungle Pack includes three new characters: Lynx, Leopard, and Viper, as well as their animal-inspired masks and outfits.
Receive 4-Weeks of VIP status so you and your friends can earn experience and in-game currency faster.
The London Dissident Pack: unlock three new masks to lead your resistance with style; the Sapphire Guard mask, the Cardboard Cyborg mask, and the Distortion mask.
In the near future, London is facing its downfall: an all-seeing surveillance state is oppressing the people, private militaries control the streets, and a powerful crime syndicate is preying on the vulnerable.
The fate of London lies with you and your ability to fight back.
Welcome to the Resistance.

OPEN-WORLD LONDON
Explore a massive urban open-world where you can visit London's many famous landmarks.

PLAY AS ANYONE
Experience a never-seen-before gameplay innovation. Anyone you see can join your team complete with a unique backstory, personality, and skill set.

HACKING IS YOUR WEAPON
Weaponise London's tech infrastructure. Hijack armed combat drones, deploy stealthy spider-bots, covertly take down enemies using an Augmented Reality Cloak, and much more.

TEAM UP WITH FRIENDS
Bring your team online and join forces with up to three friends and explore the world together or take on entirely new co-op missions and challenging endgame content.
shareDela
Varför handla hos oss
keyboard_arrow_right
Ordrar gjorda innan kl 16.00 skickas samma dag.
keyboard_arrow_right
Butik & kundtjänst har öppet 7 dagar i veckan.
keyboard_arrow_right
Alltid samma pris i butiken och på nätet.
keyboard_arrow_right
Sveriges personligaste tv-spelsbutik.
keyboard_arrow_right
Samma lager i butiken och på nätet.
keyboard_arrow_right
Kundomdömen i världsklass på prisjakt & Tradera
Utmärkelser