Hantverkaregatan 2
76130 Norrtälje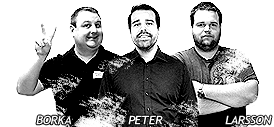 Orders made before 15.00 CET are shipped the same day.
Store & customer service open 7 days a week.
Always the same price online and in the shop.
Same stock online and in store.
Exit the Game Den Förtrollade Skogen
[Sällskapsspel]
Same stop in the store and on the web
(Inventory is updated continuously)
Shipping from 49 kr (Pick up in store 0 kr)
Deliveries faster than Sonic
90 days exchange right
Information

49 Kr

59 Kr


149 Kr
Product description
EXIT-spelen är escape rooms på ask. Här ställs ni inför en rad gåtor och mysterier som ska lösas på tid för att 'undkomma' platsen ni är fångade på.

Varje EXIT-spel utgörs av en större utmaning som tar mellan 1-2 timmar att lösa för en grupp spelare - och spelet kan bara spelas en gång. Varje ask har sitt eget tema allt ifrån hemsökta tivolin och gamla medeltidsborgar till arktiska forskningsstationer och öde öar.

I Den Förtrollade Skogen har ni irrat er in i en magisk skog som är fylld till brädden med sagolika odjur. Kan ni lösa gåtorna, knäcka koderna och hitta ut ur skogen i tid?

Exit the Game Den Förtrollade Skogen innehåller:
1 Kodskiva
88 Kort
10 Underliga Föremål
1 Bok
Spelregler på Svenska

Ålder: från 10 år
Antal spelare: 1-4 Spelare
Speltid: ca. 45-90min.
Other information

Share
Questions and answers
You may also like
Others also bought