Hantverkaregatan 2
76130 Norrtälje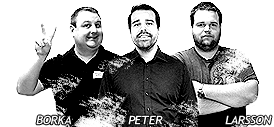 Orders made before 15.00 CET are shipped the same day.
Store & customer service open 7 days a week.
Always the same price online and in the shop.
Same stock online and in store.
Retro-bit Tribute64 2.4 GHz Wireless Controller - Atomic Purple
[N64]
Same stop in the store and on the web
(Inventory is updated continuously)
Shipping from 59 kr (Pick up in store 0 kr)
Delivery time 1-3 weekdays
90 days exchange right
Information

59 Kr

69 Kr


149 Kr
Product description
The Tribute64 2.4GHz Wireless Controller is part of Retro-Bit®'s Platinum Series of controllers dedicated to classic retro gaming consoles. Designed for use on the N64®' and USB®' enabled devices, it features ultimate versatility for any gaming genre. Built with an analog stick utilizing the highest grade in quality, a wide and ergonomic design to boost your gaming experience, and an ample button layout with additional functions for USB devices, players will enjoy long hours of classic retro gameplay. Built-in rumble and a memory card port will make you experience immersive wireless gaming right at your fingertips!

Compatible with Nintendo 64®, Switch, and USB-enabled devices
Includes N64 and USB receivers
Sensitive, accurate, and high-quality analog stick
Ergonomic design for comfort and extended gameplay
Ample button layout with additional functions for use with USB devices
Dual Z shoulder pads for maximum grip
Built-in rumble Pak and memory card port
Share
Questions and answers
You may also like
Others also bought