Hantverkaregatan 2
76130 Norrtälje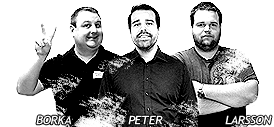 Orders made before 16.00 CET are shipped the same day.
Store & customer service open 7 days a week.
Always the same price online and in the shop.
Same stock online and in store.
Alwas Awakening DigiCal Collectors Edition
[PC/Emulator]
Same stop in the store and on the web
(Inventory is updated continuously)
Shipping from 59 kr (Pick up in store 0 kr)
Deliveries faster than Sonic
90 days exchange right
Information

59 Kr

59 Kr


149 Kr
Produkten Innehåller:
Alwas Awakening NES Collectors Edition innehåller:
Displayable Packaging
Retractable Zoe (8GB) USB
Alwa's Awakening: 8-Bit Edition ROM*
Detailed Digital Instruction Manual
Behind the Game Developer Interview
Digital Wallpaper Featuring Exclusive Artwork
*ROM will work on most popular emulators - Results may vary
Product description
Retro-Bit Publishing has always looked at ways to preserve a game's history as well as support the developers. Digical combines aspects of both DIGItal and physiCAL releases for those interested in playing the digital copy of the game via ROM game file who don't want all the extra add-ons from the Collector's Edition but also wish to support the developers. It all comes on a USB® memory stick packed with digital exclusives along with a display case that really stands out in any collection!
Share
Questions and answers
You may also like
Others also bought