Butiken
hantverkaregatan 2
76130 Norrtälje
Hitta hit
Öppettider
Mån-Fre: 10.00-18.00
Lördag: 10.00-16.00
Söndag: 11:00-16:00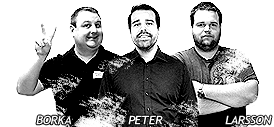 | | |
| --- | --- |
| Tillverkare: | id Software |
| Support: | http://support.bethsoft.com/eng/products.asp |
| Fraktkostnad Posten: | 29 Kr |
| Fraktkostnad Schenker: | 59 Kr |
| Fraktkostnad Norden: | 149 Kr |
| Vårt artikelnummer: | 21916 |
infoViktig produktinformation
För att göra det möjligt för er att ställa er tidigt i vår bokningskö för denna produkt, har vi lagt upp produkten för bokning även fast ett korrekt pris och datum ibland ännu inte finns tillgängligt, Pris och datum är endast spekulationer från vår sida, och överensstämmer inte nödvändigtvis med vad utgivaren planerar.
Developed by id Software, in conjunction with Saber Interactive, Quake® Champions is a return to the frenetic, fast-paced competition that established Quake as the originator of the multiplayer shooter genre more than 20 years ago. Quake Champions delivers the dark mythos of the first Quake combined with the groundbreaking multiplayer mayhem of Quake III Arena with a major modern twist – Champions. These fierce warriors each wield unique attributes and abilities, enabling players to compete in their own distinctive style, while adding an additional layer of strategy to the game.

The Next Great Quake Multiplayer Game
Quake's signature rocket jumping, skill-based competition, and incredible speed remains intact, providing veterans with a welcome return and new players a fresh way to showcase their multiplayer skills. Players will frag enemies using a variety of powerful weapons while battling their friends in four competitive game modes, including Deathmatch, Team Deathmatch, Duel, and the team-focused Sacrifice.

Incredible, Diverse Champions
Quake Champions will introduce a roster of elite Champions, each equipped with unique attributes and abilities that are additive to Quake's established gameplay. Champions are colorful, charismatic - and sometimes weird - and possess both an Active and Passive ability designed to enhance individual play styles. Players can choose a Champion based on abilities or style, from Quake vets like Ranger and Anarki, to newcomers like Clutch and Scalebearer.

Uncompromising Weapons, Ready for Battle
Quake III Arena's devastating arsenal of flesh-chewing weaponry, including fan-favorites like the thunderous Rocket Launcher, electrifying Lightning Gun, and snipe-tastic Railgun are back along with the Shotgun, Machine Gun, and the ever-personable melee-masher, the Gauntlet. Players can also acquire classic versions of weapons, including the Quake 1 Rocket Launcher, the Quake 2 Railgun, and more.

Intense Game Modes
Established and beloved game modes return, including the gib-filled fragfests of Deathmatch and Team Deathmatch and the competitive fury of 1v1 Duel mode, while a new team-based mode, Sacrifice, joins the fray. Playing like a combination of Domination and Single Flag Capture the Flag, Sacrifice challenges players to work together, strategize, and dominate the arena.

memorySystemkrav
Systemkrav ännu ej officiella
shareDela
Butiken
hantverkaregatan 2
76130 Norrtälje
Hitta hit
Öppettider
Mån-Fre: 10.00-18.00
Lördag: 10.00-16.00
Söndag: 11:00-16:00
Varför handla hos oss
keyboard_arrow_right
Ordrar gjorda innan kl 16.00 skickas samma dag.
keyboard_arrow_right
Butik & kundtjänst har öppet 7 dagar i veckan.
keyboard_arrow_right
Alltid samma pris i butiken och på nätet.
keyboard_arrow_right
Sveriges personligaste tv-spelsbutik.
keyboard_arrow_right
Samma lager i butiken och på nätet.
keyboard_arrow_right
Kundomdömen i världsklass på prisjakt & Tradera
Utmärkelser