Butiken
hantverkaregatan 2
76130 Norrtälje
Hitta hit
Öppettider
Mån-Fre: 10.00-18.00
Lördag: 10.00-16.00
Söndag: 11.00-16.00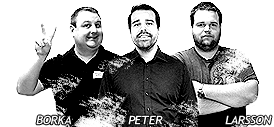 Doom Eternal Collectors Edition (inkl. Förbokningserbjudande)
[PC]
| | |
| --- | --- |
| Garanti: | 12 månader |
| Tillverkare: | id Software |
| Språk (tal): | |
| Språk (text): | |
| Rek. ålder: | 18 år |
| Fraktkostnad Posten: | 139 Kr |
| Fraktkostnad Schenker: | 99 Kr |
| Fraktkostnad Norden: | 149 Kr |
| Vårt artikelnummer: | 33988 |
infoViktig produktinformation
För att göra det möjligt för er att ställa er tidigt i vår bokningskö för denna produkt, har vi lagt upp produkten för bokning även fast ett korrekt pris ännu inte finns tillgängligt. Pris är endast spekulation från vår sida, och överensstämmer inte nödvändigtvis med vad utgivaren planerar.

The DOOM Eternal Collector's Edition includes:
DOOM Eternal game
Full-size, wearable DOOM Slayer helmet
Year One Pass
Access to two single player campaign add-ons to release within one year of DOOM Eternal's launch date. Featuring new perspectives and new ways to play, these standalone stories explore the cataclysmic events that led to earth's fall against the demons.
DOOM Eternal and DOOM 2016 Lossless Soundtrack Digital Code
For the audiophiles out there, get access to both games' lossless soundtracks via a digital code printed onto a UAC-themed cassette tape worthy of your Walkman. You'll want to give it a listen...
Lore Book
Custom drawn by id Software, this lore book chronicles events within the DOOM universe, sheds light on the Slayer's backstory, and hints at things yet to come.
"The Gift of Argent Power" 11" x 17" Lithograph
Demonic Slayer skin
Classic Weapons Sound Pack
Throwback weapon sound effects for all your DOOM Eternal guns
Exclusive Steelbook Case
Custom designed by graphic designer and illustrator Gabz in collaboration with Mondo, the DOOM Eternal Collector's Edition steelbook case is a one-of-a-kind design for the most hardcore and fervent fan.

Players who pre-order any version of DOOM Eternal receive the "Rip and Tear Pack" which includes:
DOOT Revenant Skin
Bonus Campaign Master Level
Remixed version of campaign level Cultist Base, featuring new challenges and surprises
"Throw-back" Combat Shotgun weapon skin
Relive your glory days with this retro Shotgun, featuring classic wood handle and gun metal finish for the Combat Shotgun
As well as a digital download of Doom 64
Developed by id Software, DOOM® Eternal™ is the direct sequel to the award-winning and best-selling DOOM® (2016). Experience the ultimate combination of speed and power as you rip-and-tear your way across dimensions with the next leap in push-forward, first-person combat. Powered by idTech 7 and set to an all-new pulse-pounding soundtrack composed by Mick Gordon, DOOM Eternal puts you in control of the unstoppable DOOM Slayer as you blow apart new and classic demons with powerful weapons in unbelievable and never-before-seen worlds.

SLAYER 2.0
Unleash the overwhelming power of the DOOM Slayer. With updated armor and an arsenal of new and improved equipment, including a shoulder-mounted cannon with flamethrower, extendable blade, and a new dash ability, you're faster and deadlier than ever. Destroy every demon in your path with an upgraded array of guns and mods, including the Super Shotgun's new Meat Hook attachment to pull yourself point blank with the faces of hell.

RIP MORE, TEAR MORE
Obliterate more demons than ever before, each with their own attacks and abilities. Fan-favorite classics such as the Pain Elemental, Archvile, and Arachnotron make their return, while a horde of totally-new demons join the roster including the DOOM Hunter and corrupted Marauders. DOOM Eternal's "destructible demons" system takes your power fantasy to new levels by ensuring that every trigger pull has never felt better.

ALL-NEW INVASION
As the Slayer, allow real players to invade your campaign as demons for a dramatic and unpredictable twist anytime you're playing the campaign. Or join the ranks of the damned yourself as you become a demon and invade a friend or other player's campaign. Invade others either by yourself or with another player, as part of a hunting party, to give the Slayer a true taste of Hell.

WE'RE NOT ON MARS ANYMORE
Rip and tear across epic, never-before-seen worlds. Witness the tumbling skyscrapers of Hell on Earth; battle through an invasion of the mammoth BFG 10,000 on Phobos; and discover the ancient secrets of the DOOM universe. With idTech7, every environment is brought to life in unprecedented detail.
memorySystemkrav
Systemkrav ännu ej officiella
shareDela
Butiken
hantverkaregatan 2
76130 Norrtälje
Hitta hit
Öppettider
Mån-Fre: 10.00-18.00
Lördag: 10.00-16.00
Söndag: 11.00-16.00
Varför handla hos oss
keyboard_arrow_right
Ordrar gjorda innan kl 16.00 skickas samma dag.
keyboard_arrow_right
Butik & kundtjänst har öppet 7 dagar i veckan.
keyboard_arrow_right
Alltid samma pris i butiken och på nätet.
keyboard_arrow_right
Sveriges personligaste tv-spelsbutik.
keyboard_arrow_right
Samma lager i butiken och på nätet.
keyboard_arrow_right
Kundomdömen i världsklass på prisjakt & Tradera
Utmärkelser