Hantverkaregatan 2
76130 Norrtälje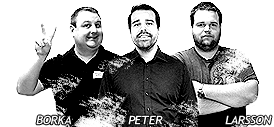 Orders made before 16.00 CET are shipped the same day.
Store & customer service open 7 days a week.
Always the same price online and in the shop.
Same stock online and in store.
NES-HW-SCN Handboken om NES-Tillbehör (Inbunden)
[Bok]
Information

49 Kr

59 Kr


149 Kr
Product description
Efter succén (om man nu kan kalla det så) med handboken NES-XX-SCN, kommer nu uppföljaren: NES-HW-SCN. En bok som tar upp alla de tillbehör som såldes i Norden. Från originalkontrollen till saker du säkert inte trodde existerade.

Innehåller alla de NES-tillbehör som gavs ut i Norden mellan 1986-1996. Komplett med bilder och djupgående fakta. Dessutom listor över de flesta kontroller som någonsin utvecklats till NES och Famicom över hela världen. Porträtt av de svenska distributörerna och några av de största joystick-tillverkarna.

En naturlig uppföljare till den första boken med allt det som inte fick plats i den tidigare boken. Tryckt i 500 exemplar och i samma format som första boken för att passa med varandra i bokhyllan.
Share
Questions and answers
Others also bought