Butiken
hantverkaregatan 2
76130 Norrtälje
Hitta hit
Öppettider
Mån-Fre: 10.00-18.00
Lördag: 10.00-16.00
Söndag: 11.00-16.00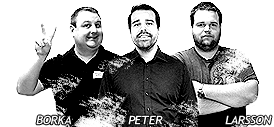 Nintendo Amiibo Shovel Knight Collection (Treasure Trove Gold)
[Multiformat]
12 kr/mån

Butik i norrtälje och webbshop är samma lager
(Lagersaldo senast kontrollerat för 6 minuter sedan.)
access_time
Beställ inom
0 timmar 00 minuter
för att få din order skickad idag med
checkFrakt från 69 kr (Hämta i butik 0 kr) checkLeveranstid 1-3 vardagar check90 dagars bytesrätt
| | |
| --- | --- |
| Garanti: | 12 månader |
| Tillverkare: | Yacht Club Games |
| Serie: | Amiibo |
| Support: | support@wendros.se |
| Fraktkostnad Posten: | 69 Kr |
| Fraktkostnad Schenker: | 69 Kr |
| Fraktkostnad Norden: | 149 Kr |
| Vårt artikelnummer: | 31784 |
Discover amiibo, a brand new way to interact with your favorite characters and games. Shovel Knight, heroic master of Shovelry, is ready to dig in! His Shovel Blade and quick thinking can get him out of any sticky situation. Become the champion of shovel justice with the Shovel Knight Gold amiibo.

Features in Shovel Knight: Shovel of Hope:
Custom Knight
The main feature of the Shovel Knight amiibo is Custom Knight. Custom Knight is a customizable version of Shovel Knight that levels up by collecting Gold. Each level unlocks more health and magic, relics, charge attacks, abilities, and cosmetics. Custom Knight data is saved to the amiibo.

Co-op Mode
Co-op Mode is available on all platforms and is also compatible with Custom Knight although for both players to use Custom Knight requires the use of two different amiibo.

Features in Shovel Knight: Treasure Trove
Challenges
Scanning the amiibo at the challenge screen unlocks new challenges for Challenge Mode. Unlike with the other amiibo usage this only needs to be scanned once to permanently unlock the challenges. The 3DS version unlocks 5 new challenges centered around Custom Knight, but the Wii U and Switch versions have the 5 regular custom knight challenges, as well as 5 additional Co-op challenges.

Madame Meeber
A fairy-godmother themed character for the amiibo, who is capable of summoning a Fairy Companion for the player after scanning the Shovel Knight themed amiibos. The fairy available through the Shovel Knight amiibo is the Fairy of Shovelry, designed around Shovel Knight himself, and is available in all campaigns.

Features in Azure Striker Gunvolt 2
Scanning the amiibo in Azure Striker Gunvolt 2 unlocks a boss battle against Shovel Knight. This was added due to Yacht Club Games publishing Azure Striker Gunvolt: Striker Pack (a physical bundle of both Gunvolt games) in North America.

General features:
Bring your amiibo to life in Shovel Knight for the following Nintendo systems: Switch, Wii U and Nintendo 3DS.Discover exclusive abilities and challenges, only with amiibo.One amiibo, multiple gamesThe Shovel Knight amiibo will work with more games in the future! Stay tuned to amiibo.com for compatibility details in new games. Compatibility with Nintendo Switch, Nintendo 3DS, Nintendo 3DS XL and Nintendo 2DS.Nintendo 3DS, Nintendo 3DS XL and Nintendo 2DS systems are compatible with amiibo functionality using the Nintendo 3DS NFC Reader/Writer.

amiibo ger liv åt dina Nintendo-karaktärer!
Se kända Nintendo-karaktärer kommer till liv på nya sätt som amiibo - interaktiva samlarfigurer.

amiibo är samlarfigurer som kan kommunicera och interagera med kompatibla spel. Allt du behöver göra är att sätta amiibo-figuren på din Wii U GamePad så kommer du upptäcka nya saker i spelet!

Dina amiibo-figurer sparar information varje gång du spelar och gör på det sättet dina figurer unika.

Det första spelet som är kompatibelt med amiibo-figurer är Super Smash Bros. Spel som Mario Kart 8, Mario Party 10, Captain Toad: Treasure Tracker och Yoshi's Woolly World, är också planerade för att ha stöd för amiibo-figurer.

Exempel på hur kompatibla amiibo kan användas i några utvalda spel
I Super Smash Bros. for Wii U kan dina amiibo slåss med eller mot dig och när de gör det utvecklas de och blir starkare.
I Hyrule Warriors låser amiibo upp slumpvis valda resurser och vapen. Några amiibo ger dessutom specifika föremål.
I Mario Kart 8 ger kompatibla amiibo tillgång till nya dräkter som mii-karaktärer kan använda.
I Mario Party 10 använder man amiibos för att låsa upp nya spelplaner en för respektive figur.
memorySystemkrav
Övrigt: Kräver ett amiibo kompatibelt spel
shareDela
Butiken
hantverkaregatan 2
76130 Norrtälje
Hitta hit
Öppettider
Mån-Fre: 10.00-18.00
Lördag: 10.00-16.00
Söndag: 11.00-16.00
Varför handla hos oss
keyboard_arrow_right
Ordrar gjorda innan kl 16.00 skickas samma dag.
keyboard_arrow_right
Butik & kundtjänst har öppet 7 dagar i veckan.
keyboard_arrow_right
Alltid samma pris i butiken och på nätet.
keyboard_arrow_right
Sveriges personligaste tv-spelsbutik.
keyboard_arrow_right
Samma lager i butiken och på nätet.
keyboard_arrow_right
Kundomdömen i världsklass på prisjakt & Tradera
Utmärkelser