Butiken
hantverkaregatan 2
76130 Norrtälje
Hitta hit
Öppettider
Mån-Fre: 10.00-18.00
Lördag: 10:00-16:00
Söndag: 11.00-16.00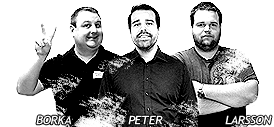 Baldurs Gate Enhanced Edition
[Switch]
shareDela
| | |
| --- | --- |
| Spelare: | 1 |
| Tillverkare: | Skybound |
| Språk (text): | |
| Rek. ålder: | 16 år |
| Fraktkostnad Posten: | 29 Kr |
| Fraktkostnad Schenker: | 59 Kr |
| Fraktkostnad Norden: | 149 Kr |
infoViktig produktinformation
För att göra det möjligt för er att ställa er tidigt i vår bokningskö för denna produkt, har vi lagt upp produkten för bokning även fast ett korrekt pris ännu inte finns tillgängligt. Pris är endast spekulation från vår sida, och överensstämmer inte nödvändigtvis med vad utgivaren planerar.
Includes the original Baldur's Gate: Enhanced Edition and its sequel, Baldur's Gate II: Enhanced Edition, with all DLC and restored quest content, as well as the Baldur's Gate: Siege of Dragonspear expansion, featuring new original content developed by Beamdog to bridge the two games

Forced to leave your home under mysterious circumstances, you find yourself drawn into a conflict that has the Sword Coast on the brink of war. Soon you discover there are other forces at work, far more
sinister than you could ever imagine...Since its original release in 1998, Baldur's Gate has set the standard for Dungeons & Dragons computer
roleplaying games. Customize your hero, recruit a party of brave allies, and explore the Sword Coast in your search for adventure, profit… and the truth.

Running on an upgraded and improved version of the Infinity Engine, Baldur's Gate: Enhanced Edition includes the original Baldur's Gate adventure, the Tales of the Sword Coast expansion, and all-new
content including three new party members.

ENHANCED EDITION FEATURES
Native support for high-resolution widescreen displays
Optimized for controllers - A new control scheme that gives players access to the depth of gameplay that they know and love in the palm of their hand
Contains the original campaign, the Tales of the Sword Coast expansion, the Faces of Good and Evil
portrait pack DLC, the Dice, Camera, Action! voice and portrait pack DLC, and the Adventurers of Neverwinter voice and portrait pack DLC.
New stand-alone adventure: The Black Pits
New character class options
New companion characters: Dorn Il-Khan the Blackguard, Neera the Wild Mage, Rasaad yn Bashir the Monk, and Baeloth the Sorcerer (NOTE: Baeloth is considered a "secret companion")
New player character voice sets and portraits
Expanded color selection for hair, skin, and clothing during character creation
Character creation allows for the creation of 6 custom player characters in both single player and multiplayer
Improved multiplayer support
449
Kr

Extraliv
Laddar..
info Instagram
Butiken
hantverkaregatan 2
76130 Norrtälje
Hitta hit
Öppettider
Mån-Fre: 10.00-18.00
Lördag: 10:00-16:00
Söndag: 11.00-16.00
Varför handla hos oss
keyboard_arrow_right
Ordrar gjorda innan kl 16.00 skickas samma dag.
keyboard_arrow_right
Butik & kundtjänst har öppet 7 dagar i veckan.
keyboard_arrow_right
Alltid samma pris i butiken och på nätet.
keyboard_arrow_right
Sveriges personligaste tv-spelsbutik.
keyboard_arrow_right
Samma lager i butiken och på nätet.
keyboard_arrow_right
Kundomdömen i världsklass på prisjakt & Tradera
Utmärkelser