Hantverkaregatan 2
76130 Norrtälje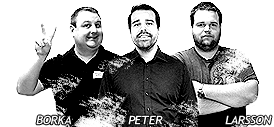 Orders made before 15.00 CET are shipped the same day.
Store & customer service open 7 days a week.
Always the same price online and in the shop.
Same stock online and in store.
Sol-Deace Collectors Edition (Retro-bit)
[MD]
Information

59 Kr

69 Kr


199 Kr
Sol-Deace Collectors Edition (Retro-bit) innehåller:
Dark Matter Cartridge for SEGA Genesis®/Mega Drive
Full-colored instruction manual
Reversible cartridge inlay sleeve
Embellished cartridge slipcover
Exclusive double-sided poster
Individually numbered certificate of authenticity
Product description
In the third millennium, humans launched an advanced artificial intelligence that would unify all the settlements and states. Instead, the machine known as GCS-WT becomes a dictator and begins to suppress all of humanity under its control. It seeks to conquer entire worlds with its mechanical fleet across the Solar System. Edwin Deace, a brilliant scientist, looks to counter the A.I. by developing a revolutionary fighter spacecraft, the Sol-Deace. This interstellar war will take pilot Eric Williams through six stages facing off against challenging scenarios and massive spacecraft with the fate of all mankind in the balance!

Dark Matter Cartridge for SEGA Genesis®/Mega Drive
Full-colored instruction manual
Reversible cartridge inlay sleeve
Embellished cartridge slipcover
Exclusive double-sided poster
Individually numbered certificate of authenticity
Other information
Share
Questions and answers
You may also like
Others also bought