Hantverkaregatan 2
76130 Norrtälje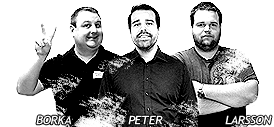 Orders made before 15.00 CET are shipped the same day.
Store & customer service open 7 days a week.
Always the same price online and in the shop.
Same stock online and in store.
Drakborgen (Alga 2023 Utgåva)
[Sällskapsspel]
Information

69 Kr

79 Kr


149 Kr
Important product information
För att göra det möjligt för er att ställa er tidigt i vår bokningskö för denna produkt, har vi lagt upp produkten för bokning även fast ett korrekt pris och datum ibland ännu inte finns tillgängligt, Pris och datum är endast spekulationer från vår sida, och överensstämmer inte nödvändigtvis med vad utgivaren planerar.

När vi får information om produktens korrekta pris, kommer er bokning att justeras av oss till dess rätta pris. Känns detta tillfälliga pris för högt, så beror det på att det går alltid för oss att återbetala mellanskillnaden om priset blir lägre, till skilland från om priset skulle bli högre, så kan vi aldrig dra ett högre belopp på ett köp gjort med betalkort, swish eller paypal, därav tar vi heller ett för högt pris än ett för lågt, som sedan justeras om priset inte stämmde.
Product description
Nu återlanserar Alga fantasyklassikern Drakborgen!
Succéspelet från 80-talet har nu uppdaterats och moderniserats med varsam hand.

Här väntar en farofylld färd djupt in i det okända: klarar du av att besegra fällor och monster och hitta vägen in till skattkammarens sagolika rikedomar - och sedan ta dig ut ur borgen igen, innan solen går ner?

Drakborgen innehåller:
Spelregler på Svenska
Ålder: från 10 år
Antal Spelare: 2-4 Spelare
Speltid: 10-60 min
Other information

System requirements
Detta är den nya 2023-års utgåva producerad av Alga och inte tidigare uppdaterade varianten från Fan Drakes Kickstarter projekt.
Share
Questions and answers
You may also like
Others also bought