Hantverkaregatan 2
76130 Norrtälje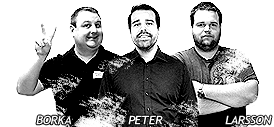 Orders made before 15.00 CET are shipped the same day.
Store & customer service open 7 days a week.
Always the same price online and in the shop.
Same stock online and in store.
Avenging Spirit (Retro-bit)
[GB]
Information

49 Kr

69 Kr


149 Kr
Avenging Spirit (Retro-bit) innehåller:
A Ghastly Glow cartridge for Game Boy® compatible systems
A numbered deluxe hardcover packaging
A full-color instruction manual.
Product description
GET INTO THE SPIRIT!
Gang members have kidnapped your girlfriend and slain you in the process. On top of that, she's being held for ransom unless her father gives up his research on "ghost energy". He tasks you with getting her back the only way you can - by possessing others to get things done!

Defeat the gang across 6 stages by using over 20 different hosts in this action-packed portable classic!

Ghastly Glow Cartridge for Game Boy Systems
Numbered Deluxe Hardcover Cartridge Packaging
Full-colored Instruction manual
Restored and translated game endings found previously only in the Japan release

FAQ:

Technical
Q) What consoles can play this cartridge?
A) This game cartridge is compatible with consoles that are able to read original Game Boy® cartridges. This includes Game Boy® consoles (including Color, Micro, GBA, GBA SP, and NDS), Super Game Boy® adapters, Game Boy® Player for GCN, Analogue Pocket, and RetroN Sq/HD.

Q) Is this game region-free?
A) All Game Boy® games have always been region-free and this release is no different.

Gameplay
Q) What kind of game is Avenging Spirit?
A) Avenging Spirit (originally Phantasm in Japan) was released in arcades in 1991 during the beat 'em up and fighting game explosion. After some success, it saw its only port arrive on the Game Boy the next year. Its unique gameplay features allowed players to use whichever enemies they found to control and complete the game. This allows for some replay value allowing players to try using different hosts each time.

Q) What gameplay differences can I expect from this release versus the original release?
A) The entirety of the game is untouched except for the following:
a) Licensing has been updated
b) A missing end screen has been restored and translated
c) The true ending final screen has also been restored
Other information
Share
Questions and answers
You may also like
Others also bought