Hantverkaregatan 2
76130 Norrtälje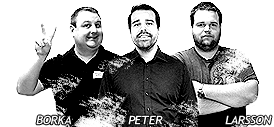 Orders made before 15.00 CET are shipped the same day.
Store & customer service open 7 days a week.
Always the same price online and in the shop.
Same stock online and in store.
Magic the Gathering Commander Collection Black
[MTG]
Information

39 Kr

59 Kr


149 Kr
Magic the Gathering Commander Collection Black innehåller:
8st Specialdesignade kort med Svart Commander tema.
Product description
8 CARDS WITH LEGEND-FOCUSED ART AND CHARACTER HOMAGES
Commander Collection: Black is a boxed set of eight reprinted cards themed to one color and what it does best—in this case black, the color of ruthlessness and opportunity.

These cards have been selected to showcase iconic black strategies in Commander, and each one has been given brand-new art with loads of references to popular legendary characters. They'll be right at home in your favorite black deck alongside their legendary counterparts!
Other information

Share
Questions and answers
Others also bought