Hantverkaregatan 2
76130 Norrtälje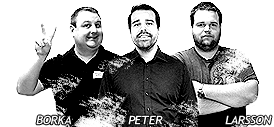 Orders made before 16.00 CET are shipped the same day.
Store & customer service open 7 days a week.
Always the same price online and in the shop.
Same stock online and in store.
Super Nintendo i Sverige (Inbunden) First Print med unikt Mario & Yoshi omslag
[Bok]
Information

59 Kr

69 Kr


149 Kr
Important product information
Denna första tryckning går endast att förhandsboka här hos oss på Spel & Sånt, och för att ge lite extra får man utöver boken med följande när man förbokar:
Ett exklusivt omslag på Mario & Yoshi, som endast kommer med första tryckningen och aldrig kommer gå att få någon annastans än hos oss.
Super Nintendo Handkontnyckelring i gummi 8cm lång
Ännu fler överraskningar som vi kommer utannonsera vid ett senare tillfälle
Product description
Super Nintendo i Sverige går bara att förhandsboka här hos oss på Spel & Sånt, och vi kommer också vara den enda återförsäljaren med det unika omslaget på Mario & Yoshi. När förhandsbokningarna drog igång 8 Mars fick vi in 200 bokningar på 45 minuter och efter 20 timmar passerade vi 500 förhandsbokningar. Den Spel & Sånt exklusiva utgåvan med Mario & Yoshi trycks endast i 1000 exemplar, så vänta inte för länge med er förhandsbokning, den här boken övergår våra vildaste fantasier i popularitet.

Spelkonsolen Super Nintendo tog Sverige med storm när den lanserades lagom till sommarlovet 1992. I dag är SNES – som den kort och gott brukar kallas – en underbar och nostalgisk påminnelse om en svunnen tid för tiotusentals svenskar. Du minns säkert trånandet i leksaksaffären, prasslet från de sönderlästa exemplaren av Nintendo-magasinet och givetvis de magiska stunderna framför tv-apparaten.

SUPER NINTENDO I SVERIGE är den jättelika och färgsprakande boken om denna älskade spelmaskins intåg i vårt land, nästan två kilo renodlad retronostalgi. Du får återse klassiska titlar som Super Mario World, The Legend of Zelda: A Link to the Past och Super Metroid – som än i dag toppar listor över världens bästa spel. Du får en komplett översikt över konsolens och spelens utgivning i Sverige samt djuplodande intervjuer med de som var med och lade grunden till den nordiska försäljningssuccén.

SUPER NINTENDO I SVERIGE är det storasyskon du längtade efter som barn. En källa till oumbärlig kunskap om både de mest populära och de creddigt obskyra spelen som formade din barndom.

Författarna Martin Lindell och Carl Michael Sahlberg är två av landets mest erkända retrospelsexperter vars samlade Nintendo-kunskaper få kan utmana. Lindell har bland annat tidigare skrivit böckerna Historien om SEGA samt Svensk Videospelutveckling: Från 50-tal till 90-tal, den senare i samarbete med Thomas Sunhede. Carl Michael Sahlberg är bibliotekarie på Kungliga biblioteket och arbetar bland annat med spelbevarande.

Förbokningsutgåvan av boken SUPER NINTENDO I SVERIGE får ett unikt bokomslag med Mario och Yoshi i full galopp. Du som kan din SNES-historia känner igen denna bild då den användes till omslaget på flertalet kataloger från den svenska distributören Bergsala – men då är bilden oftast vänd på andra hållet, med blicken vänd från pärmen – vilket är det vanliga i väst.

Men faktum är att man på Nintendo var väldigt noga med riktningen. På ett av dokumenten i en grafisk manual står till och med uttryckligen: "Note: Mario riding Yoshi should always face to the left". Så bilden på omslaget är faktiskt rätt!

Författare: Martin Lindell & Carl Michael Sahlberg
Utgivare: FanDrake
Sidor: 196 Sidor
Vikt: 2Kg
Mått (mm): 31.5 × 23.5 × 3 cm (Höjd*Bredd*Djup)
Other information

Share
Questions and answers
Others also bought