Hantverkaregatan 2
76130 Norrtälje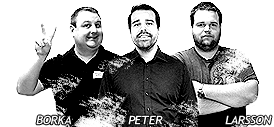 Orders made before 15.00 CET are shipped the same day.
Store & customer service open 7 days a week.
Always the same price online and in the shop.
Same stock online and in store.
8 Bitar på 80-Talet Boken om Nintendo i Sverige Fjärde Utgåvan 2015 (Pocket)
[Böcker]
Information

49 Kr

59 Kr


149 Kr
Product description
Vi nedanstående länk kan man läsa ett smakprov ur boken:
Smak prov av 8 Bitar på 80-Talet

Den fjärde utgåvan innehåller reviderad text och nya bilder, intervjuer med Peter Sparring och Gunnar Lindberg Årneby om Nintendo-Magasinet samt nya kapitel om de tecknade serierna och när Nintendo åkte på turné i Sverige.

8 Bitar på 80-Talet: Nintendos Marsch in i de Svenska Hemmen
Nintendo har sedan tidigt 80-tal haft en stark position i Sverige. En hel generation tv-spelare växte upp med NES - Nintendo Entertainment System, även i folkmun kallad Nintendo 8-bitars. Odödliga spelklassiker som Super Mario Bros och The Legend of Zelda såg dagens ljus på NES. En kombination av dessa unika spelidéer samt ett flitigt och finurligt arbete av den svenska generalagenten Bergsala ledde till stor framgång i Sverige. NES har än idag ett starkt följe och präglar dagens spelkultur.

Denna bok berättar historien bakom succén från Bergsalas tidiga möten med Nintendo i Japan till det bittra 90-talet när valutan devalverades och hårda år drabbade Nintendo. Minnen från bl.a. Owe Bergsten och Lars Jarhamn, Jens Ohlin och andra nyckelpersoner återberättas i en fascinerande historia då pionjärsanda rådde i dataspelsbranschen. Vidare listas även viktiga milstolpar på NES och försäljningsstatistik

Författaren Martin Lindell har ett gediget förflutet inom spelbranschen, Lindell har arbetat med att sälja spel i butik, varit spelexpert på MTV, informatör på branschföreningen Dataspelsbranschen, förläggare av spel som Pippi Långstrump på Nintendo DS samt arbetat med Battlefield-serien på Dice.
Share
Questions and answers
Others also bought