Hantverkaregatan 2
76130 Norrtälje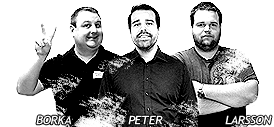 Orders made before 15.00 CET are shipped the same day.
Store & customer service open 7 days a week.
Always the same price online and in the shop.
Same stock online and in store.
Hammerin Harry
TIGHTEN YOUR HACHIMAKI AND GRAB YOUR HAMMER!
Irem was a strong competitor in the arcade scene during the end of the '80s amid the videogame boom. Nearly every arcade had a marquee featuring Moon Patrol, Kung-Fu Master, R-Type, or Ninja Spirit ready to snack on your quarters. One title to arrive in 1990 was the arcade Daiku no Gen-San or as it is known in the West, Hammerin' Harry! The little carpenter would go on to become one of Irem's most recognizable mascots and has a history of titles across various consoles. His first two adventures on consoles are now gathered together in this release that should garner attention from classic action game fans and collectors alike!