Hantverkaregatan 2
76130 Norrtälje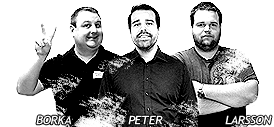 Orders made before 16.00 CET are shipped the same day.
Store & customer service open 7 days a week.
Always the same price online and in the shop.
Same stock online and in store.
Shadowverse: Champions Battle
[Switch]
Information

29 Kr

59 Kr


149 Kr
Product description
In Shadowverse: Champion's Battle, players take the role of a transfer student to Tensei Academy, where they are quickly introduced to the Shadowverse card game by their classmate, Hiro Ryugasaki. The new friends team up with Shadowverse club president (and only member) Rei on a quest to master the popular card battle game and restore the club to its former glory by winning the national championship. Throughout their adventures, players will be able to explore unique locations around the school and surrounding town, where events and encounters await in the least expected places. Team up with new friends, the battle to become the national champions, and save the Shadowverse Club for future generations!
Other information
Share
Questions and answers
Others also bought