Butiken
hantverkaregatan 2
76130 Norrtälje
Hitta hit
Öppettider
Mån-Fre: 10.00-18.00
Lördag: 10.00-16.00
Söndag: 11.00-16.00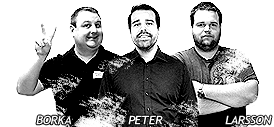 AtGames Sega Mega Drive Flashback HD console (inkl. 85st inbyggda Spel)
[MD]
shareDela
| | |
| --- | --- |
| Spelare: | 1-2 |
| Tillverkare: | ATgames |
| Support: | support@wendros.se |
| Fraktkostnad Posten: | 99 Kr |
| Fraktkostnad Schenker: | 79 Kr |
| Fraktkostnad Norden: | 149 Kr |
infoProdukten innehåller
AtGames Sega Mega Drive Flashback HD console (inkl. 85st inbyggda Spel) innehåller:
Mega Drive Console with 85 Classic games Built-in
Two 2.4G Wireless Controllers
HDMI Output
HD 720P HP Display
Original Controller Ports
The Sega Mega Drive Mini game console features 85 games among the most popular fighting & RPG ones. It is compatible with the original cartridge. Its original design will seduce all the fans of the retro-gaming players. Don't wait ! Plug your console to your TV and start playing.

Includes greatest hits:
Mortal Kombat I, II, III
Virtua Fighter 2
Altered Beast
Phantasy Star series
Sonic Series

LIST OF GAMES INCLUDED
Mortal Kombat I, II, III
Virtua Fighter 2
Altered Beast
Phantasy Star series
Sonic Series
Golden Axe
Mortal Kombat
Phantasy Star IV
Shadow Dancer: The Secret of Shinobi
Sonic & Knuckles
Sonic the Hedgehog
Alex Kidd in the Enchanted Castle
Alien Storm
Altered Beast
Arrow Flash
Bonanza Bros.
Chakan: The Forever Man
Columns
Columns III
ComixZone
Crack Down
DecapAttack
Dr. Robotnik'sMean Bean Machine
ESWAT: City Under Siege
Eternal Champions
Fatal Labyrinth
Flicky
Gain Ground
Golden Axe II
Golden Axe III
Jewel Master
Kid Chameleon
Phantasy Star II
Phantasy Star III
Ristar
Shinobi III: Return of the Ninja Master
Sonic Spinball
Sonic the Hedgehog 2
Sonic 3D Blast
Sword of Vermilion
The Ooze
Vectorman
Vectorman2
Virtua Fighter 2
Shining Force: the Legacy of Great Intention
Shining Force II: the Ancient Seal
Shining in the Darkness
Super Thunder Blade
Mortal Kombat II
Mortal Kombat 3
BONUS INCLUDED:
Adventure in the Park
Air Hockey
Black Sheep
Bomber
Bottle Taps Race
Brain Switch
Break a Fireline
Bubble Master
Cannon
Checker
Chess
Cross the Road
Curling 2010
Dominant Amber
Fight or Lose
Flash Memory
Hangman
Hexagonos
Hidden Agenda
Hide and Seek
Jack's Pea
Jewel Magic
Jura Formula
Lost World Sudoku
Maze 2010
Mahjong Solitaire
Memory
Mirror Mirror
Mr. Balls
Mya Master Mind
Naval Power
Panic Lift
Plumbing Contest
Skeleton Scale
Snake
Spider
T-Rex Memory Match
Wall-Breaking
Warehouse Keeper
Whack-A-Wolf
Extraliv
Laddar..
info Instagram
Butiken
hantverkaregatan 2
76130 Norrtälje
Hitta hit
Öppettider
Mån-Fre: 10.00-18.00
Lördag: 10.00-16.00
Söndag: 11.00-16.00
Varför handla hos oss
keyboard_arrow_right
Ordrar gjorda innan kl 16.00 skickas samma dag.
keyboard_arrow_right
Butik & kundtjänst har öppet 7 dagar i veckan.
keyboard_arrow_right
Alltid samma pris i butiken och på nätet.
keyboard_arrow_right
Sveriges personligaste tv-spelsbutik.
keyboard_arrow_right
Samma lager i butiken och på nätet.
keyboard_arrow_right
Kundomdömen i världsklass på prisjakt & Tradera
Utmärkelser