Hantverkaregatan 2
76130 Norrtälje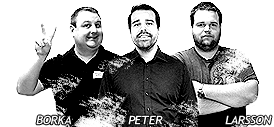 Orders made before 15.00 CET are shipped the same day.
Store & customer service open 7 days a week.
Always the same price online and in the shop.
Same stock online and in store.
El Viento Collectors Edition (Retro-bit)
[MD]
Information

59 Kr

69 Kr


199 Kr
El Viento Collectors Edition (Retro-bit) innehåller:
Rosa Intensa Cartridge for SEGA Genesis®/Mega Drive
Full-colored instruction manual
Reversible cartridge inlay sleeve
Embellished cartridge slipcover
Individually numbered certificate of authenticity
Product description
It is the year 1928 when the cult of Hastur, an evil god of the winds, seeks to resurrect their master. To do this, a massive ceremony must be performed atop a large structure in New York City - the future Empire State Building! The cult's leader Restiana has brought even mob boss Vincent DeMarco to provide additional muscle to their dark plans. All seems lost until a sorceress from Peru arrives to put an end to their plot. Annet has harnessed a portion of Hastur's magic and can control various elements such as the magic of the Wind - el Viento! Guide Annet through speakeasies, factories, alleyways, and more throughout the city and put an end to the ritual!

Rosa Intensa Cartridge for SEGA Genesis®/Mega Drive
Full-colored instruction manual
Reversible cartridge inlay sleeve
Embellished cartridge slipcover
Individually numbered certificate of authenticity
Other information
Share
Questions and answers
You may also like
Others also bought