Hantverkaregatan 2
76130 Norrtälje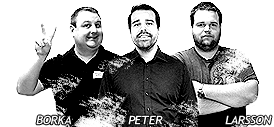 Orders made before 15.00 CET are shipped the same day.
Store & customer service open 7 days a week.
Always the same price online and in the shop.
Same stock online and in store.
Dragon Quest Treasures
[Switch]
Information

39 Kr

59 Kr


149 Kr
Product description
Erik and his sister Mia live on a Viking longship, dreaming of the day they can explore the world in search of grand treasure. One night they encounter a pair of otherworldly creatures, Porcus and Purrsula, and are whisked away to a mysterious place known as Draconia - a legendary land full of treasures just waiting to be discovered. The adventure Erik and Mia have always dreamed of is finally underway!

With the vast world of Draconia to explore and tons of tantalizing treasure to find, Erik, Mia, and their cute companions will need some help. The team soon befriends and recruits a veritable variety of well-mannered monsters. By making use of these monsters' magical visions of hidden treasure and their unique treasure-hunting abilities, our heroes will race over open fields, scale cliffs with a single bound, and glide over gaping chasms to locate loot in even the most fiendishly inaccessible spots!

Venture into a vast, varied world where twists, turns, and mysteries lie hidden on your path to discovering the legendary treasure of Draconia!

A treasure-hunting spinoff featuring beloved characters from DRAGON QUEST XI
Meet young versions of Erik and Mia as they embark on treasure hunts alongside monsters in their "brigade."
Recruit monster allies and search for treasure in a vast open world.
In the "Dragon's Land," you can find numerous items known as the "Thousand Treasures." In order to reach the final goal on "Treasure Island," Erik and Mia must hunt down the key "Seven Stones" alongside their monster friends.
Show of your treasure hoard online and keep collecting to complete the treasure encyclopedia!
Other information








http://support.eu.square-enix.com/
Share
Questions and answers
Others also bought